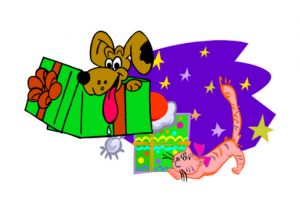 Is there an animal lover on your holiday shopping list?  
For only $30/ month, the recipient will have their name placed on a kennel of either a dog or a cat.  (You can choose which.)   They will get a letter informing them of the generous gift you made on their behalf for the holiday. 
It will contain a photo of the pet currently in their kennel.  If the donation is for more than one month, they will get a photo each month for the term of the donation.
What gift could be more purr-fect? And what a bark-gain for only $30!
Your gift is sure to please the dog or cat lover in your life.  But it will also help provide a Merry Christmas to the homeless dogs and cats that must spend the holidays in the shelter.  So please help us care for them!
Donations are tax deductible.
*Adopt-a-Kennel  rates are:
$30 – 1 month;  $85- 3 months;  $170- 6 months  &  $330-1 year